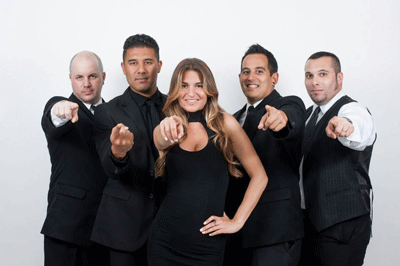 Hot Date is a high energy, five-piece party rock dance cover band performing all of the hits from the 60's to today. Putting a modern twist on your favorite oldies and keeping current with the newest dance and pop rock hits, Hot Date is sure to keep you on the dance floor all night. Weddings are their specialty as they team up with All Occasions Music DJ company so you get the best of both worlds. Horns are available upon request, as well acoustic guitar and cello for your ceremony. You choose every song you want to hear! Hot Date can make any request happen for your special day.
The band was formed in 2009 and features both male and female vocals as well as a versatile group of seasoned musicians. Available for your wedding, bar, nightclub, festival, or private party all over the east coast from Maine to Key West. With Hot Date rocking your party, everyone will enjoy the night out and will surely be one to remember. Hot Date will keep you entertained all night long!
Members: Bryan Zamzam - Male vocals; Chelsea Rose - Female vocals; Andrew - Guitar; Christian Budiarjo - Bass; Rick - Drums
Reviews:
"Best Day Ever! You know how people say that the music helps make or break the event? Well We DO!! Hot Date, booked through Omnipop, helped make our wedding a party that all will remember for a lifetime. We got married in August 2014 and we still have people raving about how much fun they had at our wedding. We love the music and the fun that Hot Date provides; we knew our friends would love it too, but what we didn't expect was our parents, aunts and uncles and even great aunts and great uncles loved it too. We saw people on the dance floor that we have never seen even out of their seats at past weddings and we have heard things like, "that was the best wedding I have been to in 50 years". Barbara at Omnipop was so easy to work with. She helped us make tough decisions about the most important day of our lives. The lead singers, Chelsea and Brian have amazing voices and an energy that gets people up and moving. And I love how the band learned a song that we requested to be played at the ceremony to make our wedding even more special. Hearing the live music being played as I stood at the end of the isle moved me to tears and then the music selection they chose brought us all to dance all night long. I would highly recommend you have Hot Date Band at your wedding. It was the perfect mix of live music and our favorite DJ jams. Not only were they a pleasure to work with and listen to, they were also really reasonably priced for all of the special details that went into our special day."
I don't even know where to start. Hot date band was absolutely incredible at my wedding for so many reasons. First of all they are so so so talented. I had the 5 piece band + the cello and guitar for ceremony music as well as a saxophone and horn. My 93 year old grandfather who can barely walk anymore was dancing and spinning me around for at least 30 minutes. I really can't think of any other band being able to do that. Some direct quotes from my guests include "we looked up our contract with our wedding band to see if we can cancel and book these guys" and "this was genuinely the best band I've seen and most fun I've had at a wedding." They are so reasonably priced and they really do care about their clients and their passion for what they do is obvious. Bryan (one of the lead singers) would answer my texts in literally 2 minutes max. He put my mind at ease assured me everything would go well (and it did). They played every song I asked for. Such genuinely nice people. Highly highly recommend.
​